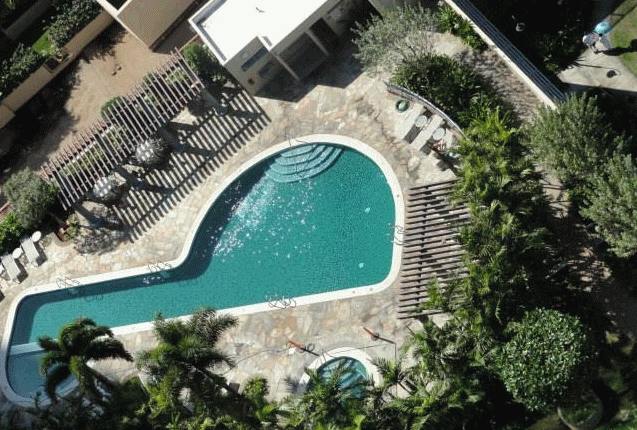 Koolani condo high floor with stunning ocean view : price change
One of our favorite condos, the Koolani condo, seems to be one to watch as the market picks activity. Among all of the newer condos in Honolulu, the Koolani stands out with its quality interiors, thoughtful floor plans and the lobby experience and that is why we take note of price changes in the building.  Unit #3004 was on the market for only a week before the asking was raised, yes, raised from $879,000 to $909,000.  It is a sign that the building is heating up along with the rest of the condo market.  The building has just emerged from two of its excess fees having to do with original construction defects in the building.  With repairs already complete, there are still a couple of on going fees added onto the regular maintenance fee.  This is sign that the Koolani is emerging from its troubled past.
Unit #3004 is one of the best floor plans in the building and perhaps one of the best 2 bedroom condo floor plans in Honolulu, in my opinion.  Most condo units have you entry right next to or usually into the kitchen area.  This is not the most elegant way to great your guests.  This 1157 square foot Koolani unit has a small, yet elegant foyer to pause before entering the living room and enjoying that wonderful ocean view.  The kitchen has some of the finest Viking appliances and they piped gas into each unit for cooking, which in many people opinions is far superior to an electric cooktop.   The master bath is spacious with a separate shower and tub and a double sink vanity.  This a very enjoyable space in which to live.
Koolani condo building:
The building has been a crazy bed of activity with showings lately.  Unit #2605 which just went under contract last week had been constantly shown for weeks while on the market.  Perhaps it would have sold sooner, but we understand that the seller was rather firm on their price.  Furthermore, now that Howard Hughes corporation has announced that they only renovating the rather short IBM building which sits in front of the Koolani rather than building a new high rise, buyers are gaining confidence in purchasing the Koolani.
To learn more about Koolani unit #3004 located at 1177 Queen Street in Kakaako  contact Malia Meenderman, Realtor, your Koolani condo expert 808-394-9779
https://www.hawaii.house/wp-content/uploads/koolani-3004-pool.jpg
430
637
Malia L. Meenderman
https://www.hawaii.house/wp-content/uploads/2018/11/hawaiihouse@2x.png
Malia L. Meenderman
2013-01-17 00:28:58
2013-01-17 00:41:56
Koolani condo high floor with stunning ocean view : price change