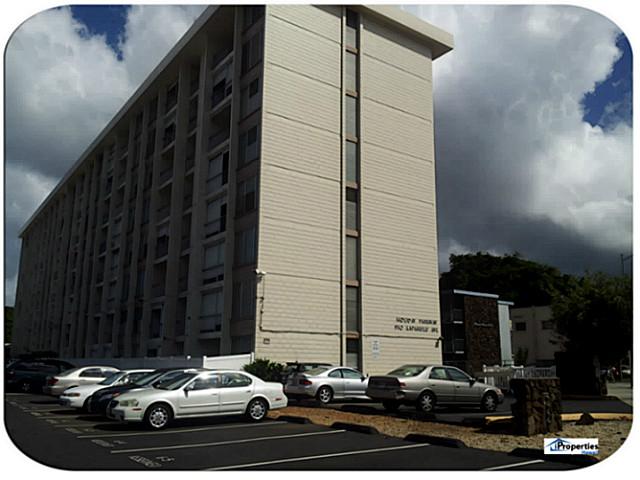 SOLD 12/17/12
Sold · 2 beds · 1 baths · 739 sqft · Sold 12/17/2012 $260,000

$270,000
Located next to Safeway Kapahulu Complex, shopping, restaurants, coffee & lots more! Close to bus line. Great for first-time homebuyer. Located near Waikiki beach. Conveniently located on the ground floor with grassy area in front. This is a short sale.
Details
Condo buildingHoliday Parkway
Year Built1971
Original list price$270,000
Sold price$260,000
Days on market109
Price per sqft$352/sqft
Baths1
Beds2
Maintenance fees$475
Total Monthly fees$475
Address

910 Kapahulu Ave unit #104, Honolulu, HI, 96816

Total area739 sqft
Interior area739 sqft
nr.of parking places1
Floor Number1
Property typeWalk-Up
NeighborhoodKapahulu
Land area41730 sqft / 0.958 acres
City of OahuHonolulu
RegionHonolulu
IslandOahu
Land tenureFS - Fee Simple
Owner occupancy percentage68
ViewNone
Listed byiProperties Hawaii
Amenities & Features
FloorsVinyl, W/W Carpet
ConstructionConcrete
Property ConditionFair
Management CompanyCertified Mgmt
Other Fee IncludesElectricity,Gas,Hot Water,Sewer,Water
OccupancyOwner
Public Report Number296
ParkingOpen - 1
AmenitiesCommunity Laundry
Unit featuresSingle Level
InclusionsNone
Neighborhood - Kapahulu
Neighborhood average sales price*$841.71k
Neighborhood median sales price*$760k
Number or sales*39
Street median sales price*$348.75k
Price history
Date
Event
Price
$/sqft
Source
Dec 17, 2012
Sold
$260,000

-12.75% from last sold price

$351.83
Public Record
Sep 18, 2012
In Escrow - not showing
$270,000
$365.36
MLS 1209827
Aug 31, 2012
New Listing
$270,000
$365.36
MLS 1209827
Oct 20, 2005
Sold
$298,000
$403.25
Public Record
Oct 11, 2005
In Escrow - not showing
$310,000
$419.49
MLS 2512086
Aug 28, 2005
In Escrow - still showing
$310,000
$419.49
MLS 2512086
Jul 29, 2005
New Listing
$310,000
$419.49
MLS 2512086
Taxes
Current Property Taxes p/month$65
Property Tax Year2012
Assessed Improvement value$233,300
Assessed Land value$69,800
MLS #1209827
TMK1-2-7-031-017-0004
Land RecordedRegular System
Total Assessed value$303,100
Agent viewpoints
of 910 Kapahulu Ave unit #104, Kapahulu, Oahu, 96816
We do not have an Agent Viewpoint for this listing yet.
As soon as we do, we post it here.